Residential and Commercial Services
BAS Metal has been operating as a specialist in Stainless Steel and Custom Metal Fabrication and a Custom Welding Facility producing quality components for over 15 years. We are a custom fabrication shop building components and providing a variety of welding services for a wide range of commercial and industrial customers.

Fabrication Services
Our fabrication team utilizes all latest machinery that is built for product specification. Our machinery is designed to be used in production of light fabricated steel as opposed to heavy industrial-grade metals that don't allow for as much detail and customization. We pride ourselves in paying close attention to every intricate detail of each finished product and stand by it 100%.

Stainless Steel Fabrication
Today, stainless steel is the best possible solution for any industry. From factories to homes, stainless steel has been adopted as the "it" material of the 21st century. What makes it so special is the long lasting quality of a rigid metal that is flexible, requires no maintenance, and faces no threat from corrosion. This miracle metal is also customizable in every aspect, from shape to finish and provides a modern look and years of maintenance free servitude.
What makes this material different from other metals? Its Furious Metal qualities make it very difficult to drill, cut, bend, or weld. We are experts in handling stainless steel and are ready to design and build anything you need. From a 10 foot fountain to a 10 inch air filter, we have designed and fabricated thousands of custom items per our customer's specifications. Our facility is outlined with specially designed tools to handle fabrication of furious metals of various grades and finishes.

Residential Gates and Railings
We offer a comprehensive range of high quality hand-made forged gates, railings, balconies, fireplace screens. Each forged piece is designed and made according to meet individual requirements of the customer: entrance gates, sliding gates, driveway gates, garden gates, Juliet balcony, step railings, etc. Follow the link to view our hand forged works portfolio.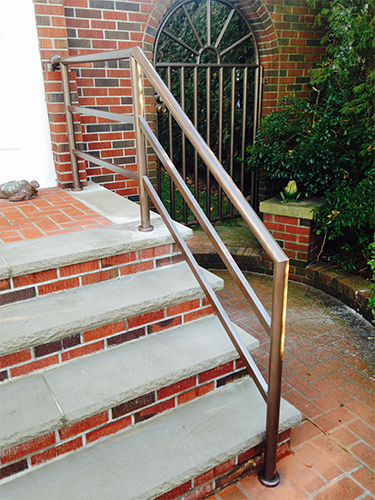 Commercial Kitchen Equipment
Transform your kitchen into a stunning place with our hand-made forged range of long lasting equipment for all businesses. Discuss with our designers what kind of steel construction will add a charm and a touch of art to your work place.
| | |
| --- | --- |
| Finishes: | Mill Grades: |